The Marine Industry Association of South Africa (MIASA) has developed a Boat Builders Plate for small vessels in South Africa.
Why do you need a Builders Plate?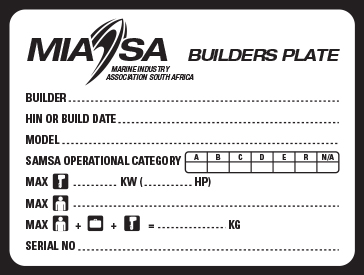 The Builders Plate is intended to increase consumer confidence in South African built boats by encouraging high standards of construction in the local small boat industry.
The Builders Plate is a declaration of conformity to a technical build specification that is adjudicated and approved by the MIASA Technical Committee.
How do you acquire a Builder's Plate?
Build details are submitted to MIASA for each model of boat by the boat builder along with a copy of the warranty, trial and test certificates and the SAMSA Buoyancy Certificate.
The builder is required to indicate the particular use of the boat, for example: 'The vessel is a bass fishing boat intended to operate on dams and rivers. It is designed in accordance with SANS 12215 Part 5 for Category D vessels and with a maximum speed of 20 knots.' The builder must also specify the maximum powering of the vessel as well as the laden and unladen weight applicable for the SAMSA category operation of the boat.
Once approved by the MIASA Technical Committee as being of appropriate construction for the intended use, MIASA issues a Builders Plate with a unique serial number. The boat builder then completes the balance of the information and the plate is fitted in a clearly visible position to the inside of the transom.
MIASA holds all the records relating to the build specification and intended use of the boat on file. This allows MIASA to keep a record of the boats manufactured and holds builders accountable to a consistent lay-up specification for their boats.
It is hoped that in time, the boating public will view the Builders Plate as an assuring indication of credibility, as has been demonstrated in other countries.